Scott still doubts Obama's birth certificate
By C. Trent Rosecrans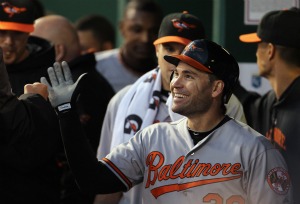 The Orioles' Luke Scott still doesn't believe President Barack Obama was born in the United States.
Scott, a proud birther, made headlines at the winter meetings when he told Yahoo!'s David Brown he didn't believe the president was born in Hawaii and that he was "hiding something."
Obama, of course, released the "long form" birth certificate so many had asked to see recently. That wasn't good enough for Scott.
"If they can counterfeit $100 bills, I think it's a million times easier to counterfeit a birth certificate, if you ask me," Scott said. "So, all it is, let's just see if it's real. Anybody can produce a document, so let's check it out."
The Orioles, it should be noted, have done their best to distance themselves from Luke's outspoken political beliefs and have asked him not to talk about them on company time, but have also allowed him to exercise his right to free speech.
In more important matters, Scott was 2 for 5 with a three-run homer in the Orioles' 6-5 loss to the Royals on Tuesday. It was his sixth homer of the season.